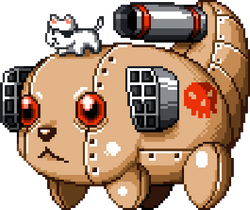 Element:
Neutral + Incendiary
Strong vs:
Cryo/Electric/Incendiary -50%
Info
A box that transforms into robotic dog.
Attack Modes
Moving towards player
Jumping
Begins to radiate like rainbow and rushes accross the battlefield
Shooting small missiles in arc accross the room floor
Shoots large missiles in random horizontal pattern down / front / upwards
Jumps high and shoots beam downwards while moving around
Loot
C : Blitzhound Fang
U : Blitzhound Paw
R : Iron Muzzle
M : Blitzhound Fang (Mission : Soldier of Fire)
C= Common, U= Unlikely, R=Rare, M= Mission
Ad blocker interference detected!
Wikia is a free-to-use site that makes money from advertising. We have a modified experience for viewers using ad blockers

Wikia is not accessible if you've made further modifications. Remove the custom ad blocker rule(s) and the page will load as expected.