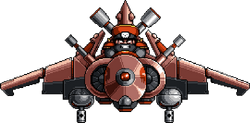 Element:
Neutral + Incendiary
Strong vs:
Cryo/Incendiary -50%, Electric -20%
Info
A flying boss with multiple attack modes.
Attack Modes
Jet turbines burning downwards
Underside Turrets soothing in half-circle pattern
Flying accross the battlefield sky while dropping giant bombs
Landing left side of ground and flying to right side
On low health the Doomsday Harrier drops down to middle of battlefield and Baron starts shooting grenades on the ground
Loot
C : Doomsday Pod
U : Doomsday Plate
R : Afterburner
M : Doomsday Plate (Mission : The Baron Battle!)
M : Afterburner (Mission : The Baron Battle!)
C= Common, U= Unlikely, R=Rare, M= Mission
Ad blocker interference detected!
Wikia is a free-to-use site that makes money from advertising. We have a modified experience for viewers using ad blockers

Wikia is not accessible if you've made further modifications. Remove the custom ad blocker rule(s) and the page will load as expected.