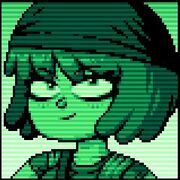 Golden Gate is the perky brunette and is the supplier for the Mercenary Kings. Her shop is located at the bottom tier of Camp Crown.
Golden Gate's Roles
Edit
You can buy items from Golden gate, or sell any weapon, item, or material to her. In addition you can purchase things and put them in your backpack or directly to your supply box.
On the field, Golden Gate provides a C4 drop box via the transciever for 5 Battery Points.
At her store you can buy:
| Buy | Purchase |
| --- | --- |
| Ration | $29.95 |
| Adrenaline Shot | $99.95 |
| Hand Grenade | $99.95 |
| Shock Bomb | $99.95 |
| Riot Shield | $129.95 |
| C4 | $149.95 |
| First Aid | $199.95 |
"My supplies? Maybe some stuff that fell off a CLAW transport, y'know?"
"I wanted to wait a bit before saying this... Sorry about the loss of your teammates. Too bad."
"Check the contents of your supply box once in a while. I sometimes forget what's in mine!"
"When you sell me a knife, Ironside buys it right BACK! He likes his originals, I guess?"