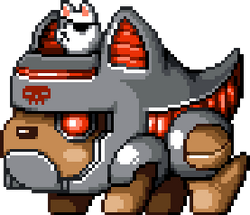 Element:
Neutral + Incendiary
Strong vs:
Cryo/Incendiary -50%, Electric -20%
Info
Updated version Blitzhound.
Attack Modes
Shoots beam accross the floor
Jumps high and shoots beam bullet
Rushes accross the battlefield and returns back while laying timed bombs on the ground
Moves to center and launches the pilot dog upwards and back
Loot
C : Sapphire Core
U : Ruby Rod
R : Ruby Eye
M : Ruby Rod ( Mission : The Guard Dog )
M : Sapphire Core ( Mission : The Guard Dog )
C= Common, U= Unlikely, R=Rare, M= Mission
Ad blocker interference detected!
Wikia is a free-to-use site that makes money from advertising. We have a modified experience for viewers using ad blockers

Wikia is not accessible if you've made further modifications. Remove the custom ad blocker rule(s) and the page will load as expected.