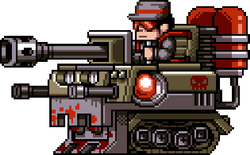 Strong vs:
Cryo/Incendiary -50%, Electric -20%
Info
A assault tank with hydralic cockpit lift. Damage can be dealt only directly to pilot or fuel tanks behind.
Attack Modes
Moving towards player
Jumping
Shooting 2 small bullets and 1 Large
Moves to center, cockpit rises upwards and then shoots Leftside downwards / Down / Rightside downwards afterwards retracts back to ground.
Loot
C : Leaf Spring
U : Track Plate
C= Common, U= Unlikely, R=Rare, M= Mission