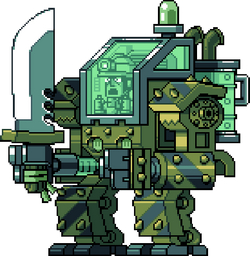 Strong vs:
Cryo/Incendiary -50%, Electric -20%
Info
Damage can be dealth either when cockpit is open or behind the robots fuel tanks. Caustic version of Steel Soldier has a much higher HP pool than any other Steet Soldier.
Attack Modes
Moving towards player
Jumping
Slashing with Panzer Splitter
Launching Robotic Claw
Loot
C : Robotic Claw
U : Blade Shard
R : Blade Catalyst
C= Common, U= Unlikely, R=Rare, M= Mission
Ad blocker interference detected!
Wikia is a free-to-use site that makes money from advertising. We have a modified experience for viewers using ad blockers

Wikia is not accessible if you've made further modifications. Remove the custom ad blocker rule(s) and the page will load as expected.