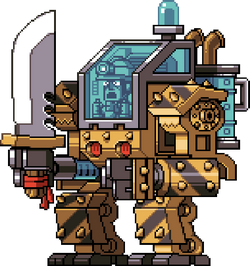 Strong vs:
Cryo/Incendiary -50%, Electric -20%
Info
First boss on Mercenary Kings. Damage can be dealt either when cockpit is open or behind the robots fuel tanks.
Attack Modes
Moving towards player
Jumping
Slashing with Panzer Splitter
Launching Robotic Claw
Loot
C : Robotic Claw
U : Blade Shard
M : Blade Shard (Mission : Capture Steel Soldier)
C= Common, U= Unlikely, R=Rare, M= Mission
Found in Quests:
Edit
Recruit
The Steel Soldier (Neutralize), The Snitch (Capture)
Lieutenant
The Jungle Heist! (Extra Objective: Capture)
Captain
The Kerosene Crush (Extra Objective: Neutralize)  
General
Steel Soldier Squad (Neutralize),  Metal Mayhem (Neutralize)
Ad blocker interference detected!
Wikia is a free-to-use site that makes money from advertising. We have a modified experience for viewers using ad blockers

Wikia is not accessible if you've made further modifications. Remove the custom ad blocker rule(s) and the page will load as expected.