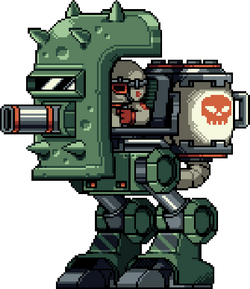 Element:
Neutral + Incendiary
Strong vs:
Cryo/Incendiary -50%, Electric -20%
Info
A piloted 2 leg mech. Can be damaged with the fuel tanks behind it, or the cockpit opens up after certain attacks.
Attack Modes
Moving towards player
Shoots Large bullets downward direction
Jumps upwards and lands down
Giant Missile-like blast.
Tosses 3 Grenades (at once) at his feet.
Loot
C : Titan Plate
U : Titan Crankshaft
C= Common, U= Unlikely, R=Rare, M= Mission
Ad blocker interference detected!
Wikia is a free-to-use site that makes money from advertising. We have a modified experience for viewers using ad blockers

Wikia is not accessible if you've made further modifications. Remove the custom ad blocker rule(s) and the page will load as expected.